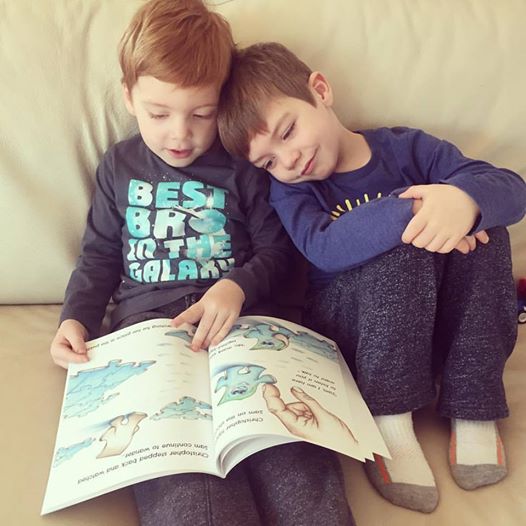 There is something so heartwarming receiving pictures like these from childhood friends of their children reading A Place for Sam:-) A big brother reading to his little sister, one reading all cozied up on the couch and two brothers snuggling as they read together - they are all just so precious!
In these pictures, I also see four boys and one girl that have bright futures ahead of them. I know their families, how loved they are and that they do all they can to help these children grow into the people they were made to be. I also know every week, like these families, I send my three children off to school and trust them into the hands of the bus drivers and school staff. I also hand my children over to their coaches, friend's parents, faith formation teachers and grandparents to be cared for at times during the week.
You see, I know Stephen and I are not our children's only teacher in life...they have many - you may be, or become, one of them.
I also know that I may be one of your child's teachers in life - when you drop them off at practice, when they are at my house for a play date or when they read Sam's story.
I know my responsibility to help children grow into their best self is greater than the children who live in my household.
Yes, my three children are my first priority...
yet I also believe that it is my responsibility to stand beside you as a parent when you trust your child in my care and help your child grow into their best self.
As the African proverb says, "it take a village to raise a child."
Like Sam, all of our children have a place and a purpose in this beautiful world. Let us each make a vow today to one another to come together and be a stepping stone - and not a stumbling block - in our children's lives. Let us each take the responsibility as a life teacher to heart and help the children in our communities grow into the people they were made to be.
I know it is a lot to ask, but it never hurts to dream;-)
With hope,
Shawn
"We may have all come on different ships but we're in the same boat now."
- Martin Luther King Jr.